Malcha Mahal is located in Malcha, one of the historical villages around Raisina Hill. Malcha, along with Raisina, Todapur, Aliganj, Pillanji, Jaisinghpura, and Kushak villages was moved by the British during the construction of capital New Delhi in 1920s, especially the Viceroy's House, which is now known as the Rashtrapati Bhavan.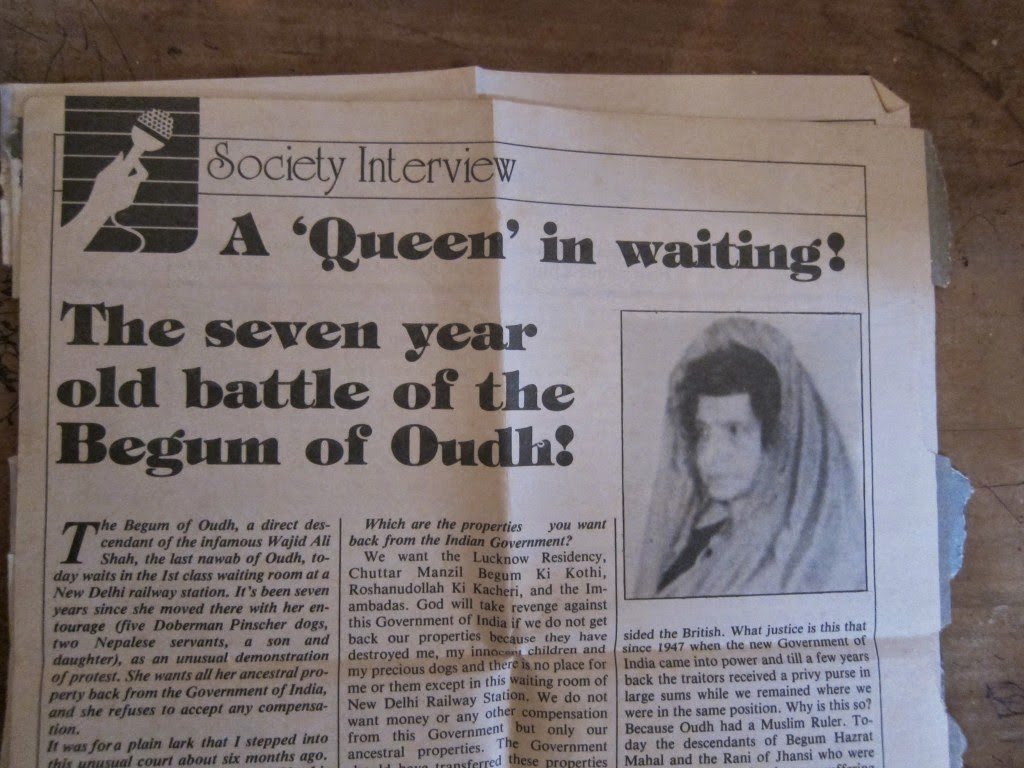 Malcha Mahal, also known as Wilayat Mahal, is a Tughlak era hunting lodge in the Chanakyapuri area of New Delhi, India next to the Delhi Earth Station of the Indian Space Research Organisation. It was built by Firuz Shah Tughlaq, who reigned over the Sultanate of Delhi, in 1325. It was renamed to Wilayat Mahal after Begum Wilayat Mahal of Awadh who was reportedly given the place by the Government of India in May 1985. On 10 September 1993, Begum committed suicide at the age of 62 by consuming crushed diamonds.
The building is now mostly in ruins, though it is still inhabited by the Begum's daughter Sakina Mahal, and son Prince Ali Raza. During her battle with Government she housed herself along with her two kids in a in the VIP lounge of railway station in delhi for nine years. In the 1985, Government finally allotted Malcha Mahal to these descendants. This was surely not less than a ghostly place for a human being full of lizards, snakes, and other insects.
In December 1993, out of stress and pain Begum Wilayat Mahal committed suicide by drinking crushed pieces of diamonds. But she left behind her two kids Prince Riaz and Princess Sakina, few Dobermans and some royal treasure. The body of begum was lying on her study table for ten days while her kids mourning with grief these days near to her body. Both the kids slept with the dead body a night prior to bury her body.
After some months few people tried to attack the kids in the search of royal treasure. The frightened siblings dig the grave of their mother and burned her body from being vandalized. The siblings have kept the ashes in a crystal Vial where she was graves till the date. There are many attempts by the thiefs who had once stolen the large silver table some gold and silver tableware from the Mahal.
From then these siblings are staying in the Malcha Mahal without any water, electricity, doors or even windows. They have no connection with the outside world. Even there is no kitchen in the palace. Prince only often come outside hiding his face for water and other basic amenities, often here implies to months.
Prince has been provided a gun and its license to shoot in self-protection by the Lt. Governor of Delhi in 1990's when they were attacked. Due to terror and pain these siblings havenot talk to outside world since years.
From so many years they are surviving on the treasure which their mother has left for them which might have been vanished by now. Now they have no one to trust since they are betrayed by their servants, journalists who misquoted them and government officials who had broken their promise.
The siblings have just given two interviews by far. They don't let anyone inside the palace if someone tries to come they leave their dogs on them.
Once someone has the chance to see Sakina full of trenches in the face, sad wild hair although her English was flawless. Both the kids are bright but burdened under the sorrows of the Oudh house. It has been from the facts the siblings have been reached to mid age roughly 50-55 years.
Some people call Malcha Mahal a haunted house or ghostly house but the real ghost is the time who has put these royal siblings in the dense forests without basic amenities since ages.
In an interview in the starting years it Prince said that he would die before his sister and then Sakina would commit suicide in the royal way of eating crushed diamonds. It was asked to him if she dies first on which he replied I have not decided for that now.